[ Home Page ] [ Guestbook ] [ Politics ] [ Pro-Life ] [ E-Mail ]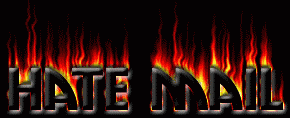 While my negative mail is quite bland compared to what I've seen other people get, I have received a few "enlightening words" from upset people, as documented below. Think I'm not being fair by posting these? Well, here's some equal time for you.
To all those who disagree with my views, yet have sent me respectful and often pleasant e-mails, I would like to say thank you! I do not post all disagreeing e-mail here, just some of the more "colorful" messages. I don't consider all disagreeing e-mail "hate mail".


"Strong and bitter words indicate a weak cause." ...found in a fortune cookie....
WARNING: There are some obscenities in the following messages, since I left the statements unmodified



---
Check it out! I still get some gems after all these years! :)
Date: Mon, 23 Aug 2010 12:54:55 -0700
Subject: You should change your email address
From: ged.duncan@gmail.com
To: prettylittlerebel AT hotmail.com
Because you're not remotely pretty, you're hideous. You are made even uglier by your stupidty and the appalling outrageous lies you tell. Basically you are a fucking bitch cunt & I hope you enjoy the lies we are all now telling about you, kinda let you know how it feels to have your rep ruined you asswipe. Wishing you a horrible life pull of pain which is what Satan worshipping anti-Christs like you deserve. Fuckhead.
---
Subject: you are italian right
Date: Sun, 21 Jul 2002 16:12:59 EDT
From: Evolved1st@aol.com

or married o one. Condsidering that Italians have been known to leave infant girl children liying on the side of the road in Italian villages abandoned. I wouldn't listen to a word you say. Your track record stinks.
---
Subject: (no subject)
Date: Wed, 24 Apr 2002 09:18:45 EDT
From: Repubsucks@aol.com

Juanita Broaddrick is a liar, Linda Tripp is a disgusting human being and you right wingers are violent hate mongers who gleefully persecute anyone who doesn't march in lockstep with you. It must be hell being a conservative. To live with such hate and fear daily. The way you all acted so disgusted with Clinton and Monica you must be frigid and grossed out with sex, yet you were like a bunch of dirty little window peepers obsessing on Clinton's private life. Then you became pornographers. Clinton may have been the star of the movie but you right wingers wrote, financed, produced, directed and distributed the movie. You made sure that everyone's children in this country read all about oral sex and cigars. How does it feel to be that kind of person? No matter how disgusted you act with Clinton you can't keep your noses out of his crotch. You must like the smell down there, you won't leave.
Have a horrible day,
Bill Hawley
---
Subject: Moral values.
Date: Mon, 22 Apr 2002 03:30:26 EDT
From: Mileefine@aol.com

Any women who would choose to have a kid from rape is a dirty stinky slut. Some women out their love that rough sex. No nice girl would choose to have a child from such immoral sickness. My men friends and women friends, when ever we hear of a girl who claims oh she was raped and she thinks she is so innocent and she wants to give birth from the so called rape, we laugh and say what a stinky slut. Your promoting immorality this is not what God want's. Your wrong about pro choice movement not wanting women to give life. What we are saying is if you want to have children have them. Some people need an abortion because of rape and such. You don't want to be a stinky slut and choose to have a kid from what you claim is so horrible as rape. If it is so horrible than how could you choose to give birth. My boyfrien says these girls who do this should be put in jail for raping the guy. I know you won't want to read this because you preach things backwards. You don't know about the true moral way. Moral values are any thing you want them to be.
---
From: JakiJack@aol.com
Date: Fri, 15 Mar 2002 12:41:08 EST
Subject: (no subject)
X-Mailer: AOL 7.0 for Windows US sub 118

Dear Imbreds,
I guess it is hard to know what is going on in politics with your head up your ass. I just happened to stumble upon your pathetic right winged bible belted christian coalition website. You don't know your ass from a hole in the wall. But then again why would you. Your head is in your ass and so are the rest of the Republican Fossils. George W Bush is a disgrace to this country. Yeah are economy is doing great right now. His domestic policies kick ass. Good thing unemployment is way up and so is the deficit. Good thing he has managed to fuck up everything in one years time that took my man Bill Clinton eight years to fix Reagans fuck ups. Bush has managed to piss every other country off with his cowboy image of us against the world antics. Dick Cheney is a criminal and should be put in prison with the whole Enron Fisasco. I am sure you pathetic bible belt activists will talk about Clinton and Monica and Whitewater. But Kenneth Star couldn't touch him in your Republican witch hunt. My man Clinton fixed Reagans Economic Fiasco of his attempted trickle down economis. George H Bush wasn't re-elected cause he couldn't fix Reagans fuck ups. The Republican party are a bunch of old fossils, out of date with realitiy, trailer trash, gun waving, oil drinkers, environmental haters, lifeless, fucking idiots. ABORTION IS THE GREATEST, ABORTION IS THE GREATEST,ABORITON IS THE GREATEST, For the rest of the Rrepublican trailer trash bible lovers out there. Make sure you keep kissing the Supreme Courts ass. Thats the only reason why George Fuck up Bush is in office.
Sincerly,
AN UNBORN CHILD WHO JUST GOT CHICKENED.....................
---
Subject: (no subject)
Date: Sun, 4 Nov 2001 08:46:54 EST
From: DDavidthePoet@aol.com


As long as the rightgrrl website discriminates against men by refusing to accept submissions from conservative men. It shows that one: you do not value the views of conservative men and two: that rightbitch is just as guilty of perpetuating the war against men as liberal feminists. Hence forth until furter notice I will continue my own personal war against all women.
Sincerely,
DavidthePoet
---
Date: Thu, 25 Oct 2001 05:54:51 -0400
From: "Dave Starkweather" [dstarkweather1@home.com]

any female that throws a gift from god back in his face will pay for it when the lord comes back. you are all a bunch of sick twisted trash,unfortunatley your mother made the wrong choice by bringing you into this world,you are nothing more than a murderer. god has his revenge and it is GREAT keep your FU..... legs closed or use birthcontrol you cannot call yourselves women a real woman takes care of her children dont kill them. no excuses, give it up for adoption sikkkos from CS

Okkkayyyyy... last time I checked, I had a pro-life web site, David. Anyway David, no wonder people think pro-lifers are off the wall if this is the kind of mail you send people.
---
Date: Fri, 21 Sep 2001 07:48:42 -0500
From: Dan and Dianne Williamson [dan2234@home.com]
Subject: Your Al Gore sight

This is the most viscious of internet sights that I have ever viewed. You are the liar!!!!! To twist the words of a great and Very smart man like Al Gore in unforgivable. The Biblical reference you accused him of mixing up is accurate Used the same way by Billy Graham. George Bush can't even quote the Bible correctly We are in this mess because we didn't elect the right man now we must support him and take our really tough consequences. Yeah this is a lot better than a President who fools around War.

We are in the middle of a horrible tragedy in this country, and someone actually takes the time for something like this??
---
Subject: You Suck
Date: Mon, 13 Aug 2001 09:43:53 EDT
From: SiamSakeLoco@aol.com

And you don't even suck very well! Amatuer Web Site, HA, HA, HA!!
---
Date: Tue, 19 Jun 2001 13:11:53 EDT
From: ChrsStrong@aol.com
Subject: Football? YOU? No Way!

I would wager you don't know jackshit about soccer, (excuse me, football).....its o.k. to utterly waste your time in whatever you call your website endeavor, but hold back when it comes to a world you know nothing about. Silly child, stick to abortion or some other easily wasteful topic, leave futbolling to those of us who breathe it as life! BARRABRAVA!

I've noticed that often, people's gripes about my web site all point back to their dislike for my position on abortion. This one, however, is rather interesting. He doesn't like my abortions stance so he screams at me because... I like soccer. I give this chap an A for originality.
---
Yet another message from someone who thinks I get paid to create a personal web site. I wish! I left the person's e-mail address out because the message wasn't really that bad. I just think it's funny that people think I get paid for this :-)
Date: Fri, 18 May 2001 22:35:42 -0400
From: ***

Subject: Get A Life!!!!!!!!!!!!!!!!!!!!!!!!!!!!!!!!!!!!!!!!!!!!!!!!!!

Are you being paid by the same people who paid off the Supreme Court of the United States to give the election to King George II. I find it interesting that we haven't heard where King George was during the Vietnam War.  First in Texas and then mysteriously getting moved to the Alabama National Guard, where noone can seem to remember the old boy. By the way isn't it bad about his daughter.  Maybe he should have told them earlier about his D.U.I.
---
Date: Tue, 3 Apr 2001 09:08:51 -0700
From: terry woods terrywoods@hotmail.com

I think your website sucks and your pro-life causes young women to abandon babies in dumpsters.  These young women are caught between religious fanatics telling them not to get an abortion and their own feelings of knowing they cannot bring a baby into this world because of their own living curcumstance.  You are all dependant on religion to help you have a feeling of belonging, a kind of security for people who need to be controlled and can't make a decision for themselves.  Pro-choices  don't need to be controlled by religion. We have the intelligence to make the RIGHT choice.  I work at a local discount store.  There are 15 young women there that gave birth to babies because it was the right thing to do.  They have obusive boyfriends and most of them do drugs or drink.  Your group should be pro-family and worry more about REAL child abuse that happens in homes everyday.  If you want a real challenge, SAVE THOSE CHILDREN!  Shoot the people abusing children that are already born as they are our future.
---
Date: Thu, 29 Mar 2001 10:26:00 EST
From: KJEANMELLEN@aol.com
Subject: HATE

I WILL NEVER GO TO YOUR WEBSITE AGAIN.,,,YOU ARE A PERSON WHO SPREADS HATE..YOU ARE TOXIC AND MAY YOU ROT IN HELL...DO YOU READ THE BIBLE..THIS IS A SIN
---
From: Cmcq99@aol.com
Date: Thu, 1 Mar 2001 12:05:35 EST
Subject: (no subject)
X-Mailer: AOL 4.0 for Windows 95 sub 120

man are you an asshole
---
02/07/01 Ok. Mr. Shea has returned - via smail mail. Since I blocked his e-mail and asked not to be contacted in any manner, he sent me his e-mail via snail mail to my work address. (hey Tom - *any manner* includes snail mail) Check this out:

From Mr. Shea (typed exactly as it was received) In the USA one has the right to ones own opinion but not ones own facts. Just as Jim and Sarah Brady have no right to determine the meaning of the Second Amendment. You and your ilk have no right to undermine Roe. V. Wade

Allow me to interject for a moment: Now we know what got Mr. Shea so upset - my abortion stance. Does Mr. Shea also believe then, that people did not have a right to try and "undermine" Dred Scott v. Sanford? Or is Mr. Shea pro-slavery? He goes on: Does this seep through your ego maniacal brain. We live in a nation of laws and not a nation of men. If you and others who disagree with this fact, Then I would suggest it be incumbent on your part to band together and start your own country somewhere else on the planet. And I wish you well in that endeavour. Because filling the internet web with hateful propaganda is not what ir or this country is all about.

This was postmarked Stamford CT 069. Mr. Shea is one piece of work.
---
02/05/01 - Hey! You know lovely Thomas Shea right below? (the one who said he'd like to slash my throat?) Well, he must have spent a good part of his weekend rooting through my web page because he found a family member's e-mail address, which is on a more obscure page. Then he found out my alternate e-mail address and informed me that he knows where I work. Now, anyone who goes to my web page can easily find out where I work, so that in itself isn't a big deal. However, when someone says he wants to kill you, then reminds you that he knows where you work, starts e-mailing family members, and starts sending you a slew of messages, well, you might say that the person (in this case Thomas) has some serious *issues* to deal with.
---
Date: Thu, 01 Feb 2001 15:20:07 -0500
From: Thomas Shea tomtom238@earthlink.net
Subject: Re: ================================
why don't you put your false teeth in backwards and eat yourself alive you skank!


---
Date: Thu, 25 Jan 2001 15:42:21 -0500
From: Thomas Shea tomtom238@earthlink.net
Subject: ================================

you stupid, ugly bitch. I'd like to slash your throat and play around in your blood
---
Date: Wed, 24 Jan 2001 20:21:06 -0500
From: Thomas Shea [tomtom238@earthlink.net]
Subject: Republicans swallow

Suck my dick, swallow my cum, drink my piss & eat my shit. Ps. smell some farts you fuck face!
---
From: NonSoldierPart2@aol.com
Date: Sun, 21 Jan 2001 11:25:47 EST
Subject: what the hell

X-Mailer: 6.0 sub 171

your website sucks and i think it should be included in the list of websites that suck.
---
From: "Ramani Greenblatt" [Princess@cts.com]
Subject: I have a great one for you!
Date: Sat, 20 Jan 2001 18:49:51 -0800
X-Mailer: Microsoft Outlook Express 5.50.4522.1200

It's called.... GET A LIFE YOU MORON!
---
Date: Tue, 19 Dec 2000 16:00:08 -0800 (PST)
From: Debi Bishop debibish@yahoo.com
Subject: You cannot be a decent person

I accidentally came across your web site a moment ago. I have no intention of trying to write anything that would enlighten you or make you a kinder or more decent human being. It is a waste of time. Like trying to explain to a pedophile how indecent and wrong he/she is. Like the pedophile, there is something missing in your mind, your heart, and your soul.

Being truly decent is something you wouldn't understand. I will take the time to say your picture shows you to be exactly the type of person you appear to be from the little I could stomach reading. I won't be back at your web site, and I have noted the company you work for. I will make sure I never send business your way. I have many friends and family. I shall make it a point to spread the word.

You write about the Vice President as if he has bush's (he doesn't deserve capitalization) history of cocaine, abortion participation, AWOL antics, and the assorted other major character flaws he's got. You are a real creep.
No business leads from Debi! Oh no. My company will go out of business!
---
Date: Fri, 15 Dec 2000 03:27:12 -0500
From: candy cphillip@pinn.net
Subject: (no subject)

hey, there aren't QUITE enough pictures of you on your web page!!!!!!!!! HAHAHAHAHAHA you need about 3000 more!!!!!!!!! don't be shy, you can't help it if you look like paula jones' uglier sister.
---
Date: Thu, 14 Dec 2000 09:09:08 -0500
From: Thomas Moghaddam Thomasm@therowecompanies.com

go to hell
---
From: Reuben Flack reu249@telocity.com
Subject: you

your website is retarted ,and republicans dont have balls or the spine to be real men to see what the truth is (recount)because a real man would want to know if he really won or not . republicans make decisions from their egos and is based on pertecting their own wallet and stepping on the backs of other people and if you didnt already know the republican party was created to support slavery ..not all repulicans 
---
Date: Wed, 13 Dec 2000 00:12:48 -0700
From: BERT ANTAL ameriteknm@msn.com
Subject: AL GORE

AL HAS MORE BRAINS IN HIS PINKY THAN YOU HAVE IN YOUR WEB SITE.  I KNOW HE HAS MANY TIMES MORE SMARTS THAN YOUR PRETENDER BUSH.  I GUESS IF IT WASN'T FOR CLINTON AND GORE THERE WOULD BE LESS MILLIONAIRES IN THE WORLD LIKE YOU.  WHAT WERE YOUR AND LIMBAUGHS' JOBS BEFORE YOU TOOK ON THIS LOW LIFE PROFESSION THAT YOU HAVE.  I BET YOU EVEN CALL YOURSELF A CHRISTIAN.  MAYBE ALL OF YOU NEED TO GET BACK IN THE WORD BECAUSE YOU FORGOT WHAT THE LORD IS TRYING TO TEACH YOU.  YOU FOLLOWED THE ROAD OF RICHES AND GARBAGE MOUTH.  HOW ARE GOING TO ANSWER GOD COME JUDGEMENT DAY.  DON'T FORGET HOW MANY PEOPLE YOU LEAD DOWN THAT ROAD OF TRASH THAT YOU FEED EVERYONE.  WHAT KIND OF LIVING ARE YOU GOING TO HAVE WHEN YOUR ILLITERATE BUSH BECOMES PRESIDENT.  YOU AND LIMBAUGH AND THE LIKES OF YOU WILL BE UNEMPLOYED AND I BET YOU WILL TRY TO COLLECT UNEMPLOYMENT, WELFARE, AND MEDICAID.  ALL THE BENEFITS THAT YOU PEOPLE VOTED AGAINST AND ARE FIRST IN LINE COLLECTING, BESIDES WELFARE FOR THE RICH LIKE YOUR FRIEND PEROT AND THE LIKES.  THERE IS ONE THING I FOUND OUT IN THE YEARS HERE ON EARTH, ALL YOU REPUBLICANS ARE ALIKE, YOU CAN TURN YOURSELVES UPSIDE DOWN, INSIDE OUT, IT IS ALL THE SAME -- A LOT OF HOT AIR AND YOU ALSO SEEM TO GET YOUR KICKS TRYING TO DESTROY GOOD AND DECENT PEOPLE.
---
Date: Tue, 12 Dec 2000 19:09:35 EST
From: NickiCL24@aol.com
Subject: your a gore quote page

your a hateful woman who apparently has nothing better to do with he time but I just dont understand how you can put someone down for what they are talking about and your not saying anything any more intelligent that's for sure. . .all you have are insults without reasoning. .I am sorry for you, by the way i noticed your "sore loserman" links really mature are the rest of the haters. I just wish people who don't want democracy would move to a country where they won't have that problem.
---
Date: Tue, 12 Dec 2000 23:41:34 -0600
From: Andrew A kaplan labesboy@pnx1.com
Subject: go f-ck yourself.com
---
Date: Sat, 9 Dec 2000 17:47:25 EST
From: Sand761@aol.com
Subject: You are a flaming moron who needs to get some actual dumb quotes

You are a flaming moron who needs to get some real quotes that could actually be bashing Al Gore. YOU ARE A FLAMING MORON. A FLAMING MORON. A BLOODY FLAMING MORON. You can quote me on that. You are really flaming stupid, you GOATFINK! It would be nice to get some actually stupid things that he said, then you could bash him. His quote on the internet is the truth... he did take that initiative. He was a sponsor of the legislation that converted the internet into its current commercial status. It is not a flaming lie, you ignorant moron. As for stupid things that anyone has said, let us take a trip down the cocaine-snorting avenue of Dubya. If you want stupid quotes, look to him.
---
X-Originating-IP: [166.102.55.108]
From: "Lindsey Holcomb" [lindseyholcomb@hotmail.com]
Date: Fri, 01 Dec 2000 23:46:36 -0000

Whatever. You must be one of those snot-nosed reporters from New York. Forget about it. First of all, although you didn't come right out and say it, you were IMMPLYING that Al Gore was dumb. And for your bit of information, Gore talks better than Bush. I'm surprised Bush even knows how to talk. And let me remind you, barbie, that Gore got the popular vote. So your stinking web page has no effect on anyone. Now do me a favor please and take what I just said and shove it up your a**. Thank you. TA TA. lindsey
---
One of my fans sent my this nifty little voodo doll
---
Subject: RE ELECT GORE 2004!
Date: Thu, 9 Nov 2000 15:34:12 EST
From: Dismas123@aol.com

EDUCATE YOUR SELF. QUIT MAKING AN ASS OUT OF YOURSELF TO THOSE WHO ARE COMPITANT.you really are confused about the type of person george bush is. he's a scum. you think he gives a fuck about those children that will be aborted. that is what the republicans would like you to believe. he does not give a shit, it's part of the image that his daddy has provided him with. X coke head scumbucket smirking faget face. these are bush's credentials and qualifications. coke head alcoholic until the age of 40. daddy becomes pres and buys jr 10% of the texas rangers. george jr is responsible for the failure of three small oil companys. he became gov after daddy won president. while in office he has managed to supply texas with the worst edu. in the country, and a poverty rate that would affend the inexistant god that he claims to worship. he has managed to kill alot of brothers in jail. pro life? I hope that you have money because that is the only reason that you would vote for doubleya. his special interests are so obvious it blows my mind. oil oil oil. they own all the large corperations. and your going to waste your time creating a site dedicated to a man who has served this country as vp for 8 years. Al gore is a friend of my family and a good man. my family is the 1 percent that george wants to give the tax break to. my parents are republicans, however they are educated and concerned with the future of this country, and they did not hand their votes over to daddy's puppet. if indeed w wins i hope that you or someone you know is not knocked up and forced to bring a child into this world unwillingly. then you will be able to apprecaite the concept of the women's right. that precious god of yours takes mother' and childre at birth, and kills 1000s from hunger a day. and when i refer to your god you must know it is the one that has been downloaded into your simple mind. Im just assuming that you believe in that story since you believe the manure that spues from george's orifus. if wrong i appogize. I can also gurante that w will fuck this up. he is incompatint. why is this so hard to see. you'll notice that the the states that gore won are the trend setting states ca il ny. then there is the hillbilly belt which extends from the southeastern part of the us through texas and up into montana. these color hating bible pushing bastard children forcing states are the ones that the smart republicans preyed on. the republicans are very smart but they don't have the best interest of the majority of the country in mind. i could go on and on about the ignorance, but i won't. have a nice day and RE ELECT GORE 2004! wake up and smell the oil.
---
From: "peachy keen" sweetpeach1908@hotmail.com
Subject: HUH?
Date: Thu, 09 Nov 2000 15:58:08 GMT
MIME-Version: 1.0
X-Originating-IP: [205.188.199.31]

Hello,
Why are you picking on Al Gore? We all know that George and the republicans are the stupid ones! You are a BITCH and I am going to keep fuvking with you and your family. You should not pick on people it is not nice you DKYE!
Sincerely,
Peachy
Oh - ok! I am "mean" for having an Al Gore quote page (guess peachy here was too stupid to check out my Not Gore page) but this little creature thinks it's ok to say she's going to "fvck" with me an my family? (please excuse me -- I don't like people saying anything about my family....)
---
From: DKDOL@webtv.net Marge Nichols
Date: Mon, 6 Nov 2000 06:37:40 -0500 (EST)
Subject: Dumb, Dumber , Stupid

You You You, Sick, Sick Sick Shame on you
---
From: "ohgee1" ohgee1@netzero.net
Date: Tue, 31 Oct 2000 18:54:05 -0800
X-Mailer: Microsoft Outlook Express 5.00.2615.200

Hey Lesbian!
Don't be mad because The Honorable Al Gore is going to beat the DUMB, cocaine addict. You RACIST, reUGLYcans make me sick! I'll send another email on November 8th laughing my ass off. See ya BIMBO!
---
From: JAMES4648@aol.com
Date: Mon, 30 Oct 2000 14:40:01 EST
Subject: gore quotes

You stupid dumb ass republicans i hope you choke on nov 7 and die you bunch of right wing conservatives are just as bad for telling lies too, you think al gore is the only politician on earth who has lied? what about watergate? what about the iran contra scandal? what about , i love this one "read my lips, no new taxes"? what about in the 2nd debate when bush said that the three men that was arrested for the dragging death of that poor black man in Texas are going to die? actually only two of them are going to die, so you see republicans lie , exaggerate and stretch the truth also oh yeah ,bush wants to give 3 trillion dollars to help young workers, that's good , but he also wants to give the same three trillion dollars to senior citizens at the same time , the wall street journal has said he can't possibly to this not unless he's using ,FUZZY MATH.
Gore/Lieberman2000
EAT SHIT AND DIE YOU BUNCH
HYPOCRITICAL REPUBLICANS!
---
Date: Wed, 25 Oct 2000 19:51:40 -0400 (EDT)
From: buttercupjb@webtv.net
Subject: bitch

i heard you been sucking the presidents pole you are a little hoochie you know
---
From: Jdsdo@aol.com
Date: Wed, 11 Oct 2000 23:43:29 EDT
Subject: 'Lies, Lies,Lies"
X-Mailer: AOL 5.0 for Windows sub 124
Wah, Hipocracy is what one sees in the reflection of one's life. The one who spends life critisizing others for one's own personel gain is the one who can kiss my ass shove a prosthesis as far as a colonoscope would explore one's entrails. In other words please do society a favor and drive around a train crossing guard without any chance of making it to the other side.
Ah yes -- another person who wails about how mean I am, then tells me to kill myself. I love such tolerance!
---
Reply-To: greade@willinet.net
From: "greade" greade@willinet.net
Date: Sun, 1 Oct 2000 16:51:34 -0500
X-Mailer: Microsoft Outlook 8.5, Build 4.71.2173.0

People like you are very sick and sorry people!! I'm not fond of Mr Gore but I wowould never post a nasty web site like this. How sad a person you must be. I hope you can get some help with your anger. Maybe a few prayers in you direction will help.
---
From: LISHat0403@aol.com
Date: Sat, 30 Sep 2000 10:43:42 EDT
Subject: Get A Life

Your website is nothing more than an internet "National Enquirer". You must be terribly afraid.
---
From: register@washingtonpost.com
Date: Tue, 26 Sep 2000 13:55:50 -0400 (EDT)
Subject: A washingtonpost.com article from av@nandomail.com

You have been sent this message from av@nandomail.com as a courtesy of the Washington Post (http://www.washingtonpost.com).

Poor George! He's such a loser! Come to think of it, so are you! What will you do when he loses! I have a suggestion. Why don't you blow what little brains you have out? The world would be much bette off without slime like you.

Speaking of losers...Ted is back! For those who know about Ted: Can you believe he hasn't been put away yet? For those who don't know about Ted: I'd say not to worry about him, but you should - he supports pedophilia, and has been obsessively sending out emails like this to a number of people for over a year, usually from public libraries (your tax dollars at work!)
---
Date: Sun, 10 Sep 2000 11:34:35 EDT
From: Phards747@cs.com
Subject: Gore

Yore a sick Wench,Bush is a Traitor to The People ,anyone with intelligence can see that your just another Hate Monger only maybe not quite as fat as Limbaugh.
Adios Fluzie
---
Date: Thu, 07 Sep 2000 16:32:41 -0400
From: Public [PUBLIC@cuyahoga.lib.oh.us]
X-Mailer: Mozilla 3.01 (WinNT; I)
Subject: Paranoia and control

Dear Carolyn:
Why are depriving all those thousdans of library dwellers access to your right-wing web ring? Just to keep on man out? Tsk...tsk I guess I must really be a threat to you. Yeah, right. You are truly a psychotic, do you realize that? No, I suppose you don't. The mentally ill rarley realize they're sick.
Note: This is Ted again, the guy who defends pedophilia and uses public libraries for his Internet activity.
---
From: "Robert Jacobsen" [robja@bigfoot.com]
Subject: you are ugly
Date: Thu, 7 Sep 2000 12:14:58 +0200
X-Mailer: Microsoft Outlook Express 5.50.4133.2400
---
Date: Sun, 27 Aug 2000 04:10:11 +0200
From: Frédéric SCOTTO [scotto@luminy.univ-mrs.fr ]
X-Mailer: Mozilla 4.7 [fr] (Win98; I)
X-Accept-Language: fr
Subject: is conservative another word for asshole ?
My name's Fred, I'm french and I thought americans were such strange people. But I must admit that under educated white trash you represent is beyond all I could imagine. I'd love to see conservative people be really consistent : go back to your ol' country life, computers, ideas and intelligence are not conservative things or concepts. Real conservative still live in their trees and eat bananas. Oops, I'm sorry, I forgot that, for conservative people, Darwin is wrong. Anyway, I'd be really happy to see you back on your inexistent god's side. To manage it, you could use all those wonderful guns you defend, for once it would be really useful. If you'd like to answer me, I would be so sorry if you'd use this innovative (the opposite of conservative, isn't it ? I'm sorry if my english is poor, but it must be sufficient for poor minded like you) machine we call a computer. Be careful, by surfing on the net you could be in contact with strange things so different the one you're used to know : Ideas...However, have a nice day.Fred
---
Date: Wed, 02 Aug 2000 19:43:57 -0700
From: Tony Clifton [tonyclifton01@hotmail.com]
To: rightgrrl@rightgrrl.com
Subject: Love your site!

FUCK YOU!
---
Date: Sun, 30 Jul 2000 17:22:11 -0500
From: GEORGE TSALIKIS [george.tsalikis@lycos.com]
To: rightgrrl@rightgrrl.com
Subject: FUCK YOU

FUCK YOU AND SEXLESS MORONIC SHIT EATING LINDA TRIP!!!!!!!!! HA!HA!HA! WHAT YOU NEED IS A PRETTY GOOD FUCK LADIES!
---
Date: Tue, 30 May 2000 20:57:54 -0400
From: Clarence Swinney [cwswinney@earthlink.net]
Subject: DARN WHO WOULD WANT YOU EXCEPT IN DARK!!!

YOU FAVOR PAULA THE DRUNKARD BJ QUEEN .
---
Date: Sun, 28 May 2000 19:38:08 BST
From: Bill Persson [malmo99@hotmail.com]
Subject: carolyn..............

don't worry about it you stupid bitch. i don't want a reply from a fucking baby butcher.

This makes no sense whatsoever. When I asked the person what he was talking about, this was the lovely response:

Date: Tue, 30 May 2000 12:49:56 BST
From: Bill Persson [malmo99@hotmail.com] Subject: Re: carolyn..............

you stupid or what? i asked some simple questions and you couldn't even answer them you baby butcher. you're a load of shit you are. answer the questions or fuck off.

I guess Billy boy doesn't realize that he never asked me any questions.
---
Date: Sat, 13 May 2000 16:33:13 -0500
From: jmk [jmk@peoplepc.com]

you people are pure trash...Clinton is 100% better than that old crazy fool reagan...all Clinton lied about was a blowjob...reagan lied about trading guns to our enemies...
---
Date: Tue, 18 Apr 2000 08:58:56 -0700
From: Sandra Sanders [ssanders@cmrls.lib.ms.us]
Subject: You Are Disgusting and Trite

Why not spare the world more bull crap and find something that will actually help society.
---
Date: Sat, 25 Mar 2000 12:28:54 +0000
From: flamegod@swbell.net
Subject: Naked Pics and such...

Hey bitch, didn't yer momma star in: "Slammin' Grannies Fanny"? Please send me naked pictures of yourself.
-Jesus Slut Fucker
---
Date: Tue, 14 Mar 2000 03:09:31 -0500 (EST)
From: Rainey Graham [lyn244@webtv.net]
Subject: you live in darkness and

ignorance
---
Date: Wed, 29 Dec 1999 16:32:18 -0500
From: raja93 raja93@bellsouth.net

i just seen your web and you so called christians are a bunch of liers. if god made man then you would follow mans law and gods you people are just crazy!!!!!  and a bunch of liers
---
Date: Tue, 14 Dec 1999 17:42:46 -0500
From: Mark Davis [mark.davis@erols.com]
To: rightgrrl@rightgrrl.com
Subject: Unbeleivable

Wow,
I can not believe that such a site exists. If not for the name of your site I would picture a bunch of fat/white/males writing these articles. Now I am picturing a bunch of of fat/white/ females writing this stuff. I am not sure which is worse?
---
Date: Fri, 10 Dec 1999 07:20:34 -0500
From: John Blair [blair@voyager.net]
Subject: right

ahh..the ultra right wing..makes me want to puke!
---
From my guestbook
You are a fuckin loser. All you whacked out nut bars are. If you and the rest of the Pubies had their way there would be no indians left in America. reminds me of the line from J.C.Watt's father. "For a Indian to vote Republican is like a chicken voting for Colonel Sanders Chuckie Cheeze
USA - Tuesday, November 16, 1999 at 08:36:24 (EST) from ppp15446.on.bellglobal.com
Oh yeah? Is that why I work for an Indian Reservation? Duh!
---
From my guestbook
Holy shit! U R 1 wretched looser! Watta phuck was that "banner-ad-boycott" all about!? Phrankly, my dear, I am a communist. OK, comuunism doesen't really work, we have seen that, but the thought is great. And U fraggin a-hole R against that! Yes, I am a bi-sexual. So let the people be what they wanna be! I don't really watch USA's politics, cause they all are sex-freaked meatheads, but when I were lookin' you're stooped page, I noticed that U have this stooped banner "Vote Carolyn"-thing. If U R against sumthin, don't try to change other people to think way U think U dirty ol' bastard!
Renegade Master <yacce@cyberdude.com>
Uprocking Bitch, Fuck ya! Xgnorgeya - Thursday, November 04, 1999 at 10:58:17 (EST) from kapy-out.kakku.saunalahti.fi
---
Date: Mon, 1 Nov 1999 02:25:43 EST
From: Metacrock@aol.com
Subject: response to email archived as flame.

On july 17 I sent you the following email, we did corropond about it, and you have included it in your falme archive:

Date: Sat, 17 Jul 1999 03:53:53 EDT
From: Metacrock@aol.com
Subject: No Subject
All of you objections to Gore and Clinton and so picky and stupid! You such a typical American fool-type. If you could only understand what you are do ing to this planet, to otherpeople and to yourself! Butof course you cant because that is the wholepint to being a mindless stupid person. And how dare you drap God into it! The people who run the Chistain world or the mostsinful, spritually dead people on earth. Not a one of you belives in Christ and when the anti show you"ll be the frist to tout his mark. Under Reagan our proxy army murdered over 3oo,ooo people in central america, including infants, you've probably never heard of the famous Sumpul massacre where Salvadoran gaurds men threw infants in the air for target practise, and if you knew about it Im sure you wouldnt care, you would support it, you would probably wantto kill you own share of infants ("their just little brown skinned commie gooks anyway") I rebuke you in Jesus name!I curse you in Jesus name- Jesus, you name has been profaned by selfish fools long enough, I curse
-----------

Your inclusion of this email under the name of hate mail is hypocritical. Apprently it's fine for you to evoke the name of Jesus when you want your way but when someone evokes the name the call down your hypocracy than they are being hateful. This just proves my contenstion that Jesus is just a convient banner for you to wave over your agenda. But if you remember the days of the Charismatic movmenet you will know that God is real. And he can't be used as a political football. That's hypocritical. I evoke the name of Jesus becaue I entend to cast out the evil powers form politics and I mention it in realtion to a curse becaue I believe that you really don't care very much about God, turth, justice, or anthing Chrsitians are suppossed to believe in. You seem really to be more of a politico. I am going to include statements about your opporation and your emails under heading of hatemail on my political board. You can see from the message above I used no profanity. I got carried away and said you were stupid and that was wrong, but hardly "hate." Like a typical right-winger can't tell the difference in disagreement and hate. I believe in Christ and I follow the power of Chrsit and I pray that you will come to understand the love of God. That means love for the powerless, love for those bieng killed in third world by forces beyond their control that seek political power and economic power. And those are forces that your politics support.

btw I',m not Metacrock, I'm his brother, i just use his computer. I'm Mongral. I didn't know about your emails to my brother. He just told me about it. You accussed Clinton of murder, that has not been substantiated and that is libel and slander. That's pretty hateful.

I guess cursing me, calling me stupid and mindless, and saying I probably want to kill infants isn't hateful? In addition, I still have the brief response I had sent to him (or his brother - maybe it was his brother's friend's brother!), so I know for a fact that I never sent him any e-mails accusing Clinton of murder.
---
Date: Wed, 27 Oct 1999 21:20:03 -0500
From: John Leeper [jleeper@uswest.net]
Subject: (no subject)

Dear god, what is wrong with you. There is nothing wrong with expressing your opinions but your a freakin nut. No one is entertained by your smart ass remarks to the emails you recieve and if you have

You're entertained by them. I can tell.

nothing to say, shut the hell up!

No, I like saying nothing.

If you can't back up your opinions you might as well not waste your time posting them. GET A LIFE!

I have no life, didn't you know?
---
From my guestbook:
What a ridiculous waste of bandwidth. You pycho loser. Karma always comes back on despicable dogmatic people like you. BTW your pages SUCK!!! Go back to HTML school you pieces of shit instead of wasting peoples time telling them what right and wrong and how to live their
Trinity <trinity@archaeology.com>
USA - Tuesday, October 26, 1999 at 00:56:31 (EDT) from 1Cust233.tnt7.santa-monica.ca.da.uu.net
---
Date: Thu, 14 Oct 1999 03:35:12 +0100
From: A German [a.german@scotland.com]
Subject: test ban vote

Well, there is more proof (as if it was needed) that:
REPUBLICAN AMERICANS = SATAN !!!!
And you have the odacity to call yourself Christians, may you be wiped of the face of this earth by God´s Wrath!!!!!!!!!! ROT IN HELL YOU SCUM SUCKING BASTARDS THAT YOU ARE ! You are not human !!!!!!!!!!!!!!!!!!!!!!!!!!!!!!!!!! You are sub-monkeys!!!!!!!!!!!!!!!!!!!!!!!!!!!!!!!!!!!!! You guys just LOVE TO SUCK WET FARTS OUT OF DEAD CHICKENS! DIE, DIE, DIE

A german
---
Date: Tue, 12 Oct 1999 20:01:50 EDT
From: CrisnPaul2@aol.com
Subject: (no subject)

Don't you right wing maggots have anything better to do than distort the truth???I look up a Al Gore web site and I run across this crap! I'm looking forward to Al Gore beating Jr., come 2000!
---
Date: Fri, 8 Oct 1999 00:14:07 EDT
From: Erstekiss@aol.com
Subject: Sick Bitch, get a life...

I can't stand you insade idiodic, irrational, radical reaks, who have nothing better to do with there time. Write me back please I'd love to here what you have to say.
---
Date: Tue, 5 Oct 1999 18:53:11 EDT
From: Scotto119@aol.com
Subject: hello

YOU ARE A CRAZY PHYSCO!!! YOUR EXTREMELY CONSERVATIVE VIEWS AND BIAST OPINIONS WILL NEVER GET YOU ELECTED. YOU HAVE ABSOLUTELY NO CHANCE OF EVER HOLDING AND ELECTED OR APPOINTED OFFICE. YOU ARE A FREAK!!!! YOU SHOULD SHUT DOWN YOUR WHOLE WEBSITE BECAUSE ALL OF YOUR IDEAS ARE INSANE!!!! YOU ARE CRAZY LADY!!!!!
---
Date: Wed, 29 Sep 1999 23:56:51 EDT
From: TxnPrncess@aol.com
Subject: (no subject)

you are really struggling with some of those. instead of wasting all of your time bothering with this stupid page, why don't you get out and volunteer somewhere, like at a hospice or to mentor kids? you're talking so much smack about someone who is out there at least trying to make a difference in the world, and all your efforts are going to this worthless page. which, by the way, your page is so unorganized its barely legible. thanks, gore supporter

I guess this person believes that sending out nasty e-mails is a constructive use of time.
---
Date: Fri, 27 Aug 1999 20:18:30 -0700
From: Monte [mcm@netfeed.com]

What a lousy site you have. As someone trying to get information, all I found was whining apologies on your site. It should be so much better for the name it goes by. Mr. Mitchell to you
---
From my guestbook

Definitely more pictures of YOU!!! I'm going to need something to jack-off to after you Righties get rid of my beloved porn, and your tight cunt will do just fine!!!
Jim <JAMESPKOY@webtv.net>
L.A., CA USA - Monday, August 16, 1999 at 03:44:57 (EDT) from proxy-397.public.rwc.webtv.net
---
Date: Tue, 10 Aug 1999 12:55:01 -0400
From: Kem Phillips [phillips@advbiol.com]
Subject: Al Gore

Dear Carolyn,
Having just looked at your "quotes" from Vice President Gore, I am compelled to comment. It does not surprise me that you like Dan Quayle since he is the exact opposite of Mr. Gore: Quayle is an ill-educated, cowardly, draft-dodging, war-mongering, self-righteous, right-wing ass. Pardon the redundancy in this characterization but, for example, you might consider the military experience of the Viet Nam aged "leaders" in the right wing of the republican party and their fellow-travellers: Gingrich-0, Barr-0, Quayle-0, Buchanans (Pat and Bey)-0, Graham-0, Limbaugh-0, Forbes-0, Largent-0, GW Bush-0 ... Al Gore is a Viet Nam veteran, a true family man, well-educated, and LIBERAL. He has shown no desire to shove his apparently sincere religion down anyone's throat, including especially my veteran's, atheist throat, unlike the pile of half-witted bigots that make up the republican right wing and of which you seem so enamored. So take your right-wing idiocy and shove it where the sun don't shine - directly between you left and right ears, a place the light of reason has never penetrated. Kem Phillips

Gore "served" in Vietnam while Quayle "dodged" the draft? The facts on that issue are discussed in one of my articles.
---
Date: Thu, 5 Aug 1999 11:25:33 -0500
From: Dee [dee@tyler.net]
Subject: welcome

Welcome, you have been added to the list of "Pathetic Clinton Haters"..... You and yours who hate are creating the atmosphere in America that enables and encourages the actions of the killers at Columbine, Atlanta and etc. Give it up and get a life.
dee in tx

Usually, hate mailers don't particuarly bother me, but this one did. To imply that my disagreement with President Clinton is IN ANY WAY responsible for the deaths at Columbine, or other places, is quite disturbing. I suggest that Dee does a little self-reflection and try and discover why she feels she needs to exploit the deaths of such people to make her point.
---
Date: Thu, 5 Aug 1999 06:06:53 EDT
From: RFitzg7630@aol.com
To: carolyn@rightgrrl.com
Subject: Stupid!

I have read just about everything I could get my hands on since I have been old enough to read - and I am now 75+. You are undoubtedly the most stupid and ineffectual author I have ever read! I do not defend the inexcusable action of a sex addict like Bill Clinton - but I certainly know that Broaddrick & Willey are proven liars! You use the term "believable" concerning these two - may I ask "believable" by whom! An extreme right-winger like you - but not by the general public - which has a lot more common sense than to believe the garbage and slime that you publish! I assume your next article will feature another believable Linda Tripp! Good luck with your trash..................Dick Fitzgerald

Oh dear.... I think I upset this old chap.
---
The following was submitted to my pet peeve page on July 7/26/99 by "Brady Tippet"
Tireless self promoters who can honor Princess Diana and Mother Teresa in the same breath! The one a Godly woman who devoted her life to helping others through His will, the other an admitted adulteress who actively consulted psychics and other crack pots for personal guidance.
People who profess to be anti-abortion on moral grounds while at the same time see nothing wrong with the abominable perversion of homosexuality! The anus is an exit NOT an entrance!
People who brag about having a degree in I.T. - they could'nt hack a degree in Computer Science - too tough for them.
People who cover their web sites with pictures of themselves - thinking they are attractive when in reality they are as homely as grandma's soap. Get the hint bent nose?
(I know. I'm just so butt ugly! I apologize to all the web surfers who I have offended with my awful appearance!)
---
Date: Sat, 17 Jul 1999 03:53:53 EDT
From: Metacrock@aol.com
Subject: No Subject

All of you objections to Gore and Clinton and so picky and stupid! You such a typical American fool-type. If you could only understand what you are do ing to this planet, to otherpeople and to yourself! Butof course you cant because that is the wholepint to being a mindless stupid person. And how dare you drap God into it! The people who run the Chistain world or the mostsinful, spritually dead people on earth. Not a one of you belives in Christ and when the anti show you"ll be the frist to tout his mark. Under Reagan our proxy army murdered over 3oo,ooo people in central america, including infants, you've probably never heard of the famous Sumpul massacre where Salvadoran gaurds men threw infants in the air for target practise, and if you knew about it Im sure you wouldnt care, you would support it, you would probably wantto kill you own share of infants ("their just little brown skinned commie gooks anyway") I rebuke you in Jesus name!I curse you in Jesus name- Jesus, you name has been profaned by selfish fools long enough, I curse
---
Date: Wed, 14 Jul 1999 16:29:34 -0500
From: yggdrasil@uswest.net
Subject: your questionable intelligence
Hey, for the modern day open minded fool, nothing is offensive. Nothing. A little thing exists: if you don't like it, don't look at it. If there were to be a single offensive thing today, in modern times, it would be you. Christians who bash gay people to make themselves feel better. Aloof fools who insult different religions and sexual preferences to make the world a safer place for them to hide their pathetic minds. You are hiding in a dark hole, trying to pretend that satanism, atheism, and homosexuality are offensive, when in truth they are not. Today, we should be able to accept eachother no matter what we think. If i want to lick another woman's cunt, or put pictures of christ defilement on the net, i should be able to do so without criticism from the likes of you. You are nothing but another conservative fool. You are nothing more than trash not worth the toilet paper i wipe my ass with. And the reason? Because you insult the world by censoring its differences. I am a lesbian satanist. Why don't you censor me? What is offensive about my preferences? If you could explain to me your logic in a way that would make sense to anyone over the age of five, i would love to hear it. Otherwise, don't quit your day job, because you are a loser. This is your life--censoring things that don't need to be. Your life is nothing. I bet you're a clerk at Kmart or a child molesting priest in a fallen congregation. Perhaps i'm wrong, and you're a lawyer or a well-payed doctor. But anyone who wastes time setting up a site like this has the intelligence of fecal matter, and anyone who actually likes what you've done wallows in it. continue what you're doing. it's fun to poke at. yggdrasil

This sweet person also signed my guestbook:
your perversity and narrowminded line of thought is astounding. stuff it with walnuts, ugly.
Yeshua Popegrinder <fallenangel07@mailexcite.com/>
n. st. paul, mn USA - Tuesday, July 13, 1999 at 17:52:43 (EDT) from premiumM15.mpls.uswest.net

My response. Below is more e-mail from this person.
---
Date: Fri, 09 Jul 1999 02:00:37 -0500
From: yggdrasil@uswest.net
Subject: (no subject)

YOU ARE OFFENDING ME BYE SAYING ITS OFFENSIVE TO WORSHIP SATAN! HAVE YOU EVER THOUGHT ABOUT NOT GOING TO THE SITES THESE BANNERS ARE PLACED YOU MORONS!!! Sheese...You make me sick.

Wow! Even after all this time, my old Link Exchange stuff still gets some hits.
---
Date: Mon, 5 Jul 1999 04:28:26 EDT
From: PIERCme86@aol.com
Subject: (no subject)

how could you write a artical about becky belle like that.you are a sick woman and a friggin lunatic.its none of your buissness if someone has a abortion or not.how can oyu disrespect her family like that all you knowis what ytou read. radicals ;like you shouldnt be alloud to talk. if abortions were illegal woman everywhere would have no choice but to try to do it themselves or get an illegal one.i hate people like tyou & all your picketing wont do anything.go to hell.

This person didn't appreciate my article on the Becky Bell case.
---
Date: Sun, 4 Jul 1999 12:57:53 EDT
From: DC6711@aol.com
Subject: (no subject)

what kind of conservative listens to the type of disgraceful music that you do? you are not a conservative. if I had the power to, your music would be stifled by government censorship.

I forgot - I can't like metal music and be a conservative at the same time. I gather this person has never listened to Holy Soldier!
---
Has anyone ever wondered what lonely people do at 3am? Here is your answer. Unable to deal with her disagreement with the pro-life view on the my Rightgrrl web site, she decided to spam the guestbook. How mature. The following message was posted 34 times.

oh look, a bunch of hypocritical chicks who want to take away MY RIGHTS. fuck. you.
Love [crushing_pain@hotmail.com]
Edmonton, AB CANADA - Thursday, July 01, 1999 at 03:37:24 (EDT) from remote785.compusmart.ab.ca

This person has also informed me that I am socially inhibited and I look like I'm 40. Time to take a poll! Who thinks I look 40 and socially inhibited? :-)
---
X-Originating-IP: [198.175.231.38]
Date: Tue, 22 Jun 1999 09:03:40 PDT
From: Donald Dale [yummmeee@hotmail.com]
Subject: You have got to be kidding me!!!

You are kidding, right? You couldn't possibly be THAT dumb as to try and equate the few misdemeanors and even fewer acts of violence committed by those who are pro-choice to the innumerable felonies (harrassment, death threats, arson, domestic terrorism, and cold-blooded assassinations) which literally number in the thousands committed by anti-abortionists/"pro-lifers".....are you? Try another approach. You will NEVER succeed by trying to make the pro-choice cause out to be violent. That's your suit. You wear it.

First, the above person has emailed other pro-lifers with similar messages. Second, he tells me that "violence is my suit" - how interesting! Interesting because the message below this is from a person who believes I am not truly pro-life because I am anti-violence. Good thing I'm not out to please everyone, isn't it?
---
Ah, more from "Reverend" Spitz
Date: Sun, 20 Jun 1999 14:43:44 -0400
From: Rev. Donald Spitz [JesusReigns@ArmyofGod.com]
Subject: web ring

Tolerant of you to include the sick sex perverted sodomites for life on your web ring. Are you not aware these sodomites are using the blood of the unborn children to promote their sick perverted lifestyle? We have accepted the fact that people like you use the unborn for your own purposes and don't really care that they are dying, but sodomites for life is really going to far.

Spitz all upset because I allow the Pro-life Alliance of Gays and Lesbians on my pro-life web ring. Spitz also doesn't like me because I don't believe in killing abortion doctors, like he does. And what on EARTH am I "using" the unborn for? Sheesh.
---
From my guestbook
I just have one comment on your abortion information. If you state that something is a fact, don't make it so fucking bias! Pro-choice is not as bad as your so called "facts" make it to be. Abortion is necessary. If you were raped and became pregnant, would you have the baby of the man who traumatized your entire life, i hardly think so. You need to stop the fucking left winged liberal hypocricy and start thinking about the facts of life, abortion is a reality and will be for a long time.
Jordan Weimersheimer [JKnight@aol.com]
Louisville, KY USA - Sunday, June 06, 1999 at 17:55:44 (EDT) from spider-to081.proxy.aol.com

Such nice language! Such tolerance! Jordan just sounds so "pro-woman".... Obviously he also can't read because I would hardly call myself "left wing". And yes Jordan, if I was raped I would keep the baby.
---
Date: Fri, 28 May 1999 22:02:20 -0700
From: Judy judy@attcanada.net
Subject: Christianity is MENTAL ILLNESS

That is the mindset of the khrystian retard. Such mind-numbing crap. Good riddance to space hippie nonsense.

Date: Fri, 28 May 1999 22:04:51 -0700
From: Judy judy@attcanada.net
Subject: (no subject)

KHRYSTIANS ARE FUCKING COWARDS!!!
---
Date: Fri, 28 May 1999 09:10:20 EDT
From: H2474@aol.com
Subject: Re: Entry to Rightgrrl Guestbook

With people like you Sweetie things will get messed up two word describe you can we say Stuck UP Let say it boys and girls STUCK UP STUCK UP
---
Date: Wed, 26 May 1999 09:00:25 EDT
From: CLi1498730@aol.com
Subject: No Subject

i am militantly pr chice.I HAVE SPPRTED CHOICE FR 50 YEAS.I DID ABORTIONS UNTIL MY STRKE LAST YEAR.I STILL HAVE ALOT FIGHT AND EMEMBER WHAT IT WAS LIKE BEFRE ROE.THE RELIGUS RIGHT DOES NOT SCARE M. C>LIPTON CLI149873O
---
Date: Wed, 19 May 1999 18:34:13 -0500
From: silencenow [silencenow@yahoo.com]
Subject: you

your a fuckin idiot, tough fuckin luck if the link exchange wont except you banner, its their program they can do what they want. instead of complaining, sign up with one of the other 10,000 banner exchanges
---
Date: Sat, 08 May 1999 19:33:32 -0400
From: Rev. Donald Spitz [DavidsStone@hotmail.com]
Subject: Dear Carolyn

Dear Carolyn,
I would like to know who gave you the right to speak for the "pro-life" movement. Murdering unborn babies is still legal because of people like you. People who do not believe unborn babies deserve to be defended in the same manner you would want to be defended if someone was about to murder you. Jesus said: "Neither do I condemn thee: go and sin no more." John 8:11

The above person is a pro-violence, anti-abortion person. I completely disagree with his pro-violence stance, as is described here. "Rev" I don't think Jesus would condone bombing abortion clinics. Stop the violence!
---
Date: Mon, 19 Apr 1999 05:38:10 +1000
From: thomsonmm [thomsonmm@bigpond.com]
To: gargaro@scis.acast.nova.edu
Subject: MMIS610

isn't it funny how you have in your home page "interview methods" and their is nothing written about it. pull you finger out and do some work.

This is a wonderful example of ignorance. See, this person is referring to my C++ programming class from Grad. school. "Thomsonmm" obviously did not take the class, or he would know that certain sections from the class home page template we were given were not filled out if they did not relate to our programming projects. I received an "A" in the class "thomsonmm", so I gather I was doing my work.
---
Little Donny must have been bored today. Not only did he send me mail as well as sign my guestbook, (a little farther down) but he sent multiple messages to my other other web site, Rightgrrl.com

Date: Thu, 15 Apr 1999 12:48:26 -0400
From: dondix [dondix@nb.net]
To: rightgrrl@rightgrrl.com
Subject: you old hags ought to be doing you house work-- you don't know nothing

wasting space on Internet

Date: Thu, 15 Apr 1999 12:51:17 -0400
From: dondix [dondix@nb.net]
To: rightgrrl@rightgrrl.com
Subject: I SEE 7YOU HAVE BEEN ON MSNBC. THAT STATION IS FULL OF IT TOO.

THAT MAKES YOU SOMEONE THAT CAN'T BE TRUSTED

Date: Thu, 15 Apr 1999 13:02:54 -0400
From: dondix [dondix@nb.net]
To: rightgrrl@rightgrrl.com
Subject: DO YOU DO PORN?

Date: Thu, 15 Apr 1999 13:52:57 -0400
From: dondix [dondix@nb.net]
To: rightgrrl@rightgrrl.com
Subject: MY MOTHER IS DEAD
AT LEAST I HAD ONE.
---
Date: Thu, 15 Apr 1999 12:43:39 -0400
From: dondix [dondix@nb.net] Subject: DO YOU SPELL IT QUIL, QUALE, ALE, OR JUST YOUR NOT A JACK KENNEDY!

YOU ARE WASTING YOUR TIME AND EVERYBODY ELSE. PAT BUCHANAN, AND YOU OUGHT TO RUN FOR DOG CATCHER.

This articulate wonder then signed my guestbook:

SEEN BETTER ON THE BACK END OF A DONKEY
Don McDermott [dondix@nb.net]
SARVER, PA. USA - Thursday, April 15, 1999 at 13:03:48 (EDT) from radish-a-07.butler.nb.net

I wonder of Donny's mommy knows he is on the computer?
---
Date: Thu, 15 Apr 1999 09:30:06 -0400
From: jonny [jonnydaborg@yahoo.com]

I hate your fuck`n country so much that it hurts. you discust me. It`s Us Against You

Headers indicate that this lovely person is from telia.com (Sweden)
---
Date: Fri, 9 Apr 1999 22:13:37 -0400 (EDT)
From: Will Sutter WSutter@webtv.net

Subject: you are so full! have you nver said anything stupid? Everybody has

everybody has brainfarts. firstly, al doesnt even write some of the responses you are touting, his staff does. You dont have a staff, u uyou woulldn't understand. tenth, a president isn't about domestic shit anyway,; for that we have an eternally squabbling congress. A President is America's front to the world. Gore is a good hearted American who can handle military equipment in a mature manner. Bushy is liable to start WWIII, without knowing it. . This would be hella stupider than a typeing errerr! Are you tracking? Did you know that overseas Republicans are representative of the arrogant, stupid american phenomenon? They think that the americans they hate, those are republicans. the rest of us are forgiven. Can a whole planet be wrong? Buddy, you're on the "stuipd" side. Better to try and change the democratic party than to be a republican. Incidentally, how old are you? I mean, is your name really carolyn, are you hot? Angry sex is the best sex! I could totally fuck the shit out of you. Then we could smoke cigarettes and and begin your education.

He then sent this message:

Date: Fri, 9 Apr 1999 22:29:43 -0400 (EDT)
From: Will Sutter WSutter@webtv.net
Subject: excuse me
I jut saw yer web page, yuo dont look like a republican, you look like a nice poison. Maybe I got a wrong nubner. I also grew up in england and have metal orientation. My sincerest apologies to Joe, who should spank you constantly if i did not get the nubnr wrong. friend, Will

Uh huh.
---
From my guestbook
YOU PRO WOMEN ARE FULL OF SHIT!!! YES, RIGHTS ARE EQUAL AND THEY SHOULD BE BUT, WOMAN SHOULD NOT HAVE SPECIAL RIGHTS. IT SHOULD NOT BE YOUR BUSINESS WHAT SOMEONE DOES WITH THEIR FETUS. IF YOU'RE AGAINST ABORTION, YOU SHOULD BE AGAINST JERKING OFF. BECAUSE YOU ARE KILLING EVERY CHANCE THAT THE SPERM HAS OF BECOMING A BABY. KISS MY ASS YOU DIKE BITCH!!!!!
Greg [gregshotspot@hotmail.com]
WA USA - Wednesday, March 31, 1999 at 15:01:26 (EST) from 169.204.235.35
---
Just following this person's request (below):
Date: Sun, 14 Mar 1999 02:53:55 -0700
From: Jeff Rush jrush@devmonkey.com
Subject: hate mail
Carolyn-
you love hate mail.. it's so proudly displayed on your site.. Although, my spelling and grammer (sp?) is bad I'd still like to see my name on the hate mail web site.. Paula Jones is ugly ... doesn't mean that Clinton won't do her. Why didn't she sue him when he was governor? Besides, how much does this whole Impeachment/ witch hunt thing affect your personal life anyway? Are you that upset? are you hurt.. did you cry? I'd be more upset that i have so many banner's on the bottom of my pages.. there useless and they're taking up way too much bandwidth.
-jeff
---
The following person is interesting. First, he sent me e-mail. I responded. He then sent a nasty response. I e-mailed him back again and find that he has blocked my e-mail address (that's okay - I just used another account). Aren't people like this just amazing? Below are Robert's wonderful e-mails.

Date: Sat, 13 Mar 1999 08:09:55 EST
From: Seekonk116@aol.com
Subject: No Subject

Conservatives are people who had too many toys when they were children. Get a life! Stop sounding like a Rush Limbaugh clone. The time you people waste in lambasting the president should be put to good use training your children not to become America's next miscreants.

His second e-mail to me:
Date: Sat, 13 Mar 1999 17:08:33 EST
From: Seekonk116@aol.com
Subject: Re: Re: No Subject

Lady, get a fucking life. Stop bothering people with your dollor mentality. Stop with the "liberal" shit. I'm a human, not a liberal or a democrat, or a conservative. I am what you cannot be, a human being. I bleed, I have feelings for my fellow man. I cry, my shit stinks, get a fucking life!!

Now, some people may think I sent a really mean response to receive such a nasty response from Robert, and for him to block my mail. This was my response. Yes, my response may have been sarcastic (what did he expect?!) but I never thought poor Robert would get so irate over it.
---
Date: Thu, 4 Mar 1999 20:05:49 +1100
From: Susan Wyer [jason42@ozemail.com.au]

YOU SUCK YOU SUCK YOU SUCK YOU SUCK YOU YOU SUCK YOU SUCK YOU SUCK YOU SUCK YOU YOU SUCK YOU SUCK YOU SUCK YOU SUCK YOU YOU SUCK YOU SUCK YOU SUCK YOU SUCK YOU YOU SUCK YOU SUCK YOU SUCK YOU SUCK YOU YOU SUCK YOU SUCK YOU SUCK YOU SUCK YOU YOU SUCK YOU SUCK YOU SUCK YOU SUCK YOU YOU SUCK YOU SUCK YOU SUCK YOU SUCK YOU YOU SUCK YOU SUCK YOU SUCK YOU SUCK YOU YOU SUCK YOU SUCK YOU SUCK YOU SUCK YOU YOU SUCK YOU SUCK YOU SUCK YOU SUCK YOU YOU SUCK YOU SUCK YOU SUCK YOU SUCK YOU YOU SUCK YOU SUCK YOU SUCK YOU SUCK YOU YOU SUCK YOU SUCK YOU SUCK YOU SUCK YOU YOU SUCK YOU SUCK YOU SUCK YOU SUCK YOU YOU SUCK YOU SUCK YOU SUCK YOU SUCK YOU YOU SUCK YOU SUCK YOU SUCK YOU SUCK YOU YOU SUCK YOU SUCK YOU SUCK YOU SUCK YOU YOU SUCK YOU SUCK YOU SUCK YOU SUCK YOU YOU SUCK YOU SUCK YOU SUCK YOU SUCK YOU YOU SUCK YOU SUCK YOU SUCK YOU SUCK YOU YOU SUCK YOU SUCK YOU SUCK YOU SUCK YOU YOU SUCK YOU SUCK YOU SUCK YOU SUCK YOU YOU SUCK YOU SUCK YOU SUCK YOU SUCK YOU YOU SUCK YOU SUCK YOU SUCK YOU SUCK YOU YOU SUCK YOU SUCK YOU SUCK YOU SUCK YOU YOU SUCK YOU SUCK YOU SUCK YOU SUCK YOU YOU SUCK YOU SUCK YOU SUCK YOU SUCK YOU YOU SUCK YOU SUCK YOU SUCK YOU SUCK YOU YOU SUCK YOU SUCK YOU SUCK YOU SUCK YOU YOU SUCK SUCK YOU SUCK YOU SUCK YOU YOU SUCK YOU SUCK YOU SUCK YOU SUCK YOU YOU SUCK YOU SUCK YOU SUCK YOU SUCK YOU YOU SUCK YOU SUCK YOU SUCK YOU SUCK YOU BUT YOU HAVE NICE TITS
---
This application was submitted to my other site, Rightgrrl
Date: Tue, 16 Feb 1999 01:23:27 -0500
To: rightgrrl@rightgrrl.com
Subject: I Want to be a Featured Rightgrrl!

Below is the result of your feedback form. It was submitted by () on Tue Feb 16 01:23:24 EST 1999
---------------------------------------------------------
name: bill clinton
____________________________________________
Take on conservatism: i kicked your fucking asses. now, how bout' a blow job, grrls.
____________________________________________
abortion: if your agin it, don't have one. we'll always need the ditch diggin Cletus' you grrls will supply.
____________________________________________
comments: i'm not a grrrl, or on the right. but if you can come with some better lookin' bitches than the ones you show on your web page, i'll be happy to give their pussies the work out they so desperately need. oh, and i've learned my lesson -- "no fat chicks."

---
Date: Mon, 15 Feb 1999 10:41:21 -0500
From: Jennifer Cannady [jcannady@bellsouth.net]
Subject: RE: drivel

what a lot of stupid drivel on your sight. Talk about narrow minded!
---
Date: Mon, 8 Feb 1999 20:27:22 EST
From: OBNwprtNws@aol.com
Subject: Paula Jones

I have it on very good authority that Paula has been afflicted with an unfortunate condition since puberty. Paula suffers from "bad couchie"--a foul smelling vagina. This is especially cruel do to the large olfactory sense that this woman has been cursed with. May a thousand locusts infest this harlets private area. Clinton is the Mannnnnnnn!!!!!!!!!!!!!!!!!!!!!
This is a perfect example of a total male pig. I am thinking other thoughts which I will refrain from expressing here.
---
Date: Fri, 05 Feb 1999 11:09:10 PST
From: Fat Albert [zev666@hotmail.com]
Originating IP: 207.139.113.193

I think you and your organization are full of s--t. The choice to live or die is solely the parents, and more-over, the mother. God forbid you were ever raped and became pregnant with the unwanted child. My ass you would keep it. You people disgust me and I hope more people continue to have abortions and the good thing is, is that you cannot do anything about it.
---
Date: Thu, 4 Feb 1999 18:16:09 -0800
From: Garry G. Stone [onradio953@jccomp.com]
Saw your web site today.....Confirms my opinion that all of you people are insane. It is the persons choice to elect to have an abortion, not yours contrary to what you believe. A person who elects to have an abortion does not affect your life. Mind your own business.

A person who elects to beat their wife doesn't affect me either. Shall we all ignore things like that too?
---
From my guestbook
what would you REALLY do if YOU were raped by a man who not only was black, but has HIV as well. What GIFT would you be giving to that child . go on tell me.
Matt <matt.murfitt1@virgin.net>
Peel, England - Thursday, January 28, 1999 at 18:35:56 (EST) from p19-penguin-gui.tch.virgin.net
It seems we have a racist and an elitist here - implying that someone who is black and/or HIV positive is better off dead?! Pitiful. And to answer your question, I would not abort the child.
---
From my guestbook
You stupid girl; abortion works and there ought to be more of them. It's not right to bring more people into this already crowded nd poverty stricken world. If Clinton should be impeached then George Bush should be executed. Conservatives are by and large violent and idiotic, they make the same mistakes over and over. At least a scholar is elected into government rather then war mongering idiots of the past. It'll be a hard pill to swallow when you're infected and sick from misplaced priorities; better get your bearings.
Susy Zelaya <suzyvz@yahoo.com>
Monte Rio, CA USA - Wednesday, January 27, 1999 at 19:48:46 (EST) from a040.son145.microweb.net
Gosh - if this woman likes Clinton, what does she think of his idea that abortion should be rare? After all, Suzy wants MORE abortions.
---
Date: Fri, 15 Jan 1999 01:30:33 +0100
From: Albert DE CLERCK albert.d@planetinternet.be

simply unbelievable how a ugly gang of hypocrits, in words and actions, can decline a wonderful and mighty nation in a ridiculous third rang circus. we tought the ku-klux-klan had disappered! what kind of language. did you fight nazi deutschland or are you trying to restore some kind of nazism. Vive le président CLINTON!!

So Albert, how much do you know about the American Constitution?
---
Date: Thu, 7 Jan 1999 22:10:48 -0500
From: JALLGYRE jallgyre@bpsom.com
Subject: what a pig

I have seen some sales bull shit in my time but you are the best. what a one sided opinionated piece of shit. I will bet my pay check you are a lesbian pig. jonflo@aol.com
Have fun losing your paycheck.
---
You're kidding...you want more? Ok then... here's the older mail..
---
[ Carolyn's Home Page ] [ Political Page ] [ E-Mail ]