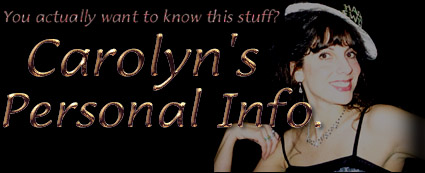 ---
Basic stuff - updated a little bit on June 19, 2015
Age - 44. Yes, the picture on this page is VERY old. I should update it, but in the meantime, you can always check out Facebook If I have any idea who you are, I might even accept a FR.
Height - 5'4" (because height is just soooo important...)
Married in November, 2005 :-D
Gave birth to my first child, Cecilia, in October, 2008! Gave birth to my second child, Luke, in June, 2010!! Olivia arrived in June 2012!!
Yes, you can find me on Facebook
Work status: Self-employed - owner of CCG Enterprises and Looneystore.com, as well as a stay-at-home-mom, who refuses to detail every moment of her childrens' upbringing on the Internet.
Previously worked as an Application Test Engineer for Midlantic Consulting

Check out my My VERY OUTDATED resume for more exciting details on my employment!
Useless facts
I play... well, I used to play... the flute and piccolo. ('and this one time, at band camp....') I used to sing in choirs (Soprano I), though I am also a metal music fan.
I own... well used to own...a 1990 Buick Reatta. (Reattas totally rule) My mom owns one too. Really. Hers is blue and is in perfect condition. I finally sold mine because, well, a Reatta just doesn't work with 3 kids. :-(
I'm a lifetime member of Weight Watchers, after losing about 35 lbs. (Atkins sucks - WW is the way to go)
The middle initial "C" in my name stands for Cecilia. I wasn't given a middle name at birth so I use my confirmation name as my middle name. St. Cecilia is the patron saint of music, as well as the name of my first daughter.
My Other Web Site:
LOONEYSTORE.COM - my own e-commerce site, (and pretty much the only web site I update nowadays) where I sell a wide variety of Looney Tunes items (especially Marvin!). This site is currently taking up a ton of my time because of the holidays! I'm being bombarded with orders, which is good, but it's a lot of work, since I run it by myself, including packing orders, etc. I didn't build the whole shopping cart system, but I designed the front-end, and have made quite a few additions and changes to the back-end (it uses Cold Fusion) On-Line Campaigns I started a looong time ago, when I used to be politically active on the Internet: Old, boring, education info.
I obtained an MS in Management Information Systems in December, 1997 at Nova Southeastern University. I began the degree in September '95, and it was great program - I did the entire program on-line! I am sure you all can appreciate this, since if you are reading this, you are on-line yourself! Unfortunately, I can no longer access my old classwork and projects on Nova's web site (I guess they don't archive things for over 10 years! Ha ha).
I also received an MA in Public Relations in December of 1993 from Rowan University (formerly Glassboro State) in December, 1993.

And BEFORE all that, I received a BA in Economics (as one can see, my career path has somewhat changed) from St. Mary's College of Maryland in May 1992. St. Mary's isn't a Catholic School; It's actually a small, liberal arts, public honors college in Southern Maryland with only about 1500 students! It's located in St. Mary's City - thus the name. The school has one of the best campuses I have ever seen - it's absolutely beautiful! In addition, the small size allows the professors to actually know their students, which is very helpful.

And last but not least - my high school, Cherry Hill East. (Class of '89) My husband graduated with me the same year :-)